Ondernemen op het internet is hot en velen zijn op zoek naar hun ticket om te stoppen met de 9 to 5 en een eigen business te starten. Dropshipping is één van de gemakkelijkste manieren om dit te doen, en dus krijgen velen van jullie advertenties te zien van Joshua Kaats en zijn Dropship Academy.
In die advertenties showcased Joshua Kaats zijn riante levensstijl met dikke Lamborghini's en Ferrari's. Vervolgens verteld hij dat hij jouw kan leren om hetzelfde te doen.
Natuurlijk zit er een addertje onder het gras: hij doet dit natuurlijk niet gratis. Wie geeft nu hun success gratis weg?Om deel te nemen aan de Dropship Academy van Joshua Kaats, moet je zo'n €997,- neertellen (staat momenteel in promo voor €697,-). Dat is heel wat en voor velen onder ons niet betaalbaar.
Gelukkig zijn er heel wat (gratis) alternatieven voor de Dropship Academy en hoef jij dus helemaal geen gigantisch bedrag neer te tellen. In dit artikel bekijken we de mogelijkheden.
Gratis alternatieven voor de Dropship Academy
Een gratis alternatief voor de dropship academy is zelf je research te gaan voeren. Hierbij kan ik jouw helpen.
De laatste tijd schrijf ik meer en meer over dropshipping en valt er dus heel wat informatie op te doen op mijn blog alleen al.
Om mijn artikelen te lezen kan je hier terecht.
Vanaf nul beginnen? Lees mijn beginnen met dropshipping stappenplan.
Natuurlijk ben ik heus niet de enigste resource op het internet waar je dropshipping informatie kunt vinden.
Gratis Dropshipping Cursus
Recent bracht "The Ecom King" zijn eigen GRATIS dropshipping cursus uit, deze postte hij gewoon op zijn youtube kanaal! In die cursus kan je al heel veel informatie opdoen over het starten met dropshipping. 
De gratis dropshipping cursus duurt 5 uur en kan heel veel waarde bieden aan een beginner. Natuurlijk is deze cursus in het Engels en gebaseerd op een internationale markt.
Het Gratis eBook van Joshua Kaats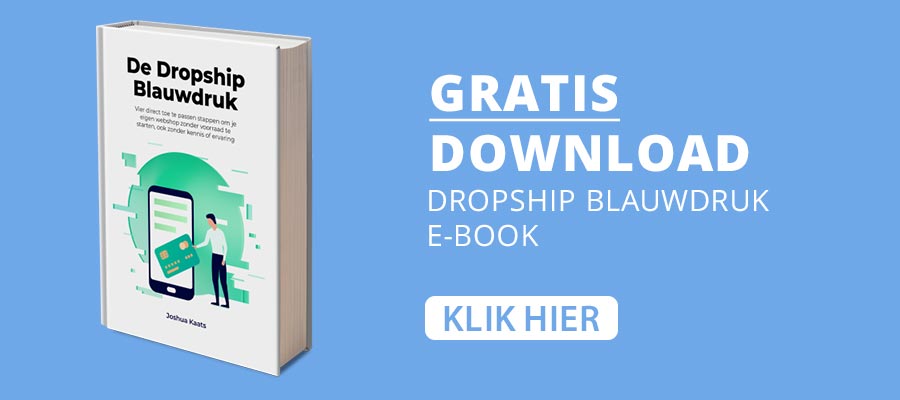 Joshua Kaats vraagt natuurlijk niet voor alles geld. Zo kan iedereen zijn 'dropship blauwdruk' downloaden waar hij uitlegt hoe het dropshipping model nu precies in elkaar zit.
Dit is ook meteen de beste resource om te weten te komen of dropshippen en de cursus van Joshua Kaats wel of niet voor jouw is.
Conclusie: Gratis Alternatief voor de Dropship Academy
Hopelijk heb je wat bijgeleerd over de gratis alternatieven voor de dropship academy. Je kan heel wat bijleren van mijn blog en ik post bijna elke dag iets nieuws over dropshipping!
Daarnaast kan je de GRATIS dropshipping cursus van THE ECOM KING waar je al heel wat gaat bijleren.
Als je nog meer wilt voorbereid zijn kan je eens kijken bij de het ebook 'De Dropship Blauwdruk' van Joshua Kaats.
Er zijn dus heel wat gratis resources online om gratis te gaan starten met dropshipping.
Vragen over dropshipping? Stuur ze naar hello@deandevos.be. Klik hier voor de gratis checklist.
---
Wil je starten met Dropshipping?
Wil je Dropshipper worden? Mijn blog helpt je hiermee. Zo heb ik tientallen artikelen geschreven om jouw op weg te helpen met dropshipping. Helemaal gratis natuurlijk.
👇 Bekijk mijn dropshipping leercentrum
---