Kan je dropshippen vanaf Coolblue?
Of kan je dropshippen vanaf bol.com?
Die vragen krijg ik nogal vaak.
Dropshippers zoeken leverancier in Nederland en Belgie en denken meteen aan de twee giganten: Coolblue en Bol.com.
Ik veronderstel dat dit komt omdat AliExpress dropshipping zo populair is.
Bij AliExpress dropshipping verkoop je overigens ook gewoon producten door van AliExpress.
Waarom zou het dan niet lukken van Coolblue of Bol?
Vele dropshippers denken dat dit de oplossing zou kunnen zijn.
Moest je nu kunnen dropshippen van coolblue of bol, dan hoef je helemaal geen zorgen te maken om die lange leveringstijden!
Pakketjes verstuurd de volgende dag!
Klinkt fantastisch.
Dus werkt dit allemaal?
Ja en nee…
Technisch gezien zou je kunnen dropshippen van Coolblue of Bol.com.
Als iemand dus een product bij jouw aankoopt, koop jij het bij Coolblue aan en die verstuurd het rechtstreeks naar jouw klant.
Maar hier komen enkele problemen tevoorschijn:
Jouw klant ziet de Coolblue verpakking en weet dus meteen dat jij het van hen hebt gedropshipt
Producten op Coolblue en Bol zijn al redelijk prijzig, je zal dus heel weinig winst gaan zien en je zal al helemaal geen betaalde advertenties kunnen betalen
Het is dus niet zo rooskleurig als het lijkt.
Dropshippen vanaf Coolblue en bol kan technisch gezien maar praktisch is dit bijna onmogelijk.
Je zal heel wat gefrustreerde en boze klanten hebben wanneer ze hun pakketje toe krijgen en je zal al amper een winst kunnen maken.
Wat is het alternatief?
AliExpress Dropshipping
De gemakkelijkste vorm van dropshipping is het doorverkopen van AliExpress producten.
Hierbij synchroniseer jij jouw dropshipping store met AliExpress via Oberlo.
Zo kan jij heel goedkoop producten vinden en ze verkopen voor 3-5 keer meer.
Dit geeft je veel ruimte om advertenties in te schakelen en op een geautomatiseerde manier geld te verdienen met jouw dropshipping store.
Ook is het aanbod op AliExpress gigantisch en zijn zij altijd de eerste die met nieuwe populaire artikelen op de proppen komen.
Natuurlijk zullen je klanten wel wat moeten wachten op hun pakketje.
Meer over dropshipping via AliExpress.
Europese leveranciers via Spocket
Als je niet op zoek wilt gaan naar je eigen Belgische of Nederlandse dropshipping leverancier kan je gebruik maken van een service zoals Spocket.
Spocket is net zoals Oberlo een app die integreert met Shopify en waarvan jij producten kan importeren.
Met het enige verschil dat jij producten van Europese leveranciers kan inschakelen in plaats van producten die vanuit China komen.
Voor meer informatie over Spocket kan je mijn Spocket dropshipping artikel lezen.
Verkopen via Bol.com
Nog een alternatief, is gewoon een bol.com verkoper worden.
Dan hoef jij helemaal niet te dropshippen en kan je netjes producten verkopen op hun platform.
Je kan dan gebruik maken van hun eigen distributiecentrum en passief geld verdienen met de producten die jij op bol verkoopt.
Hierbij hoef je geen advertenties te maken, geen webshop op te zetten en dergelijke.
Jij hoeft enkel producten op de kopen (van Alibaba) en te versturen naar het Logistiek Via Bol distributiecentrum.
Vanaf dan is alles geautomatiseerd!
Meer informatie over verkopen op bol.com.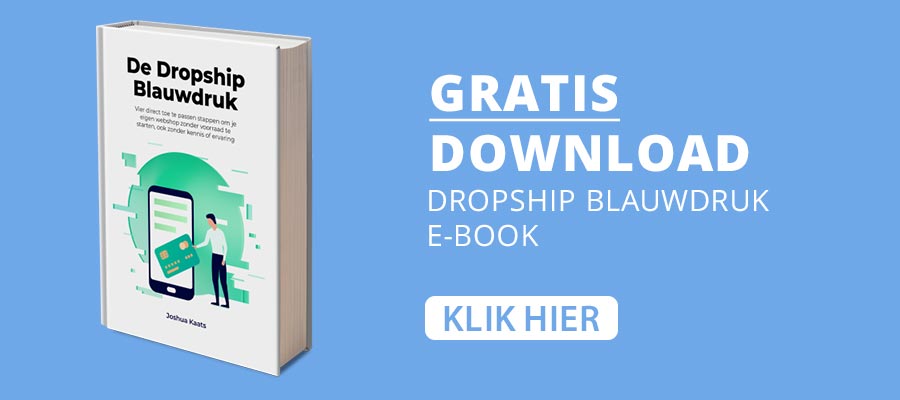 Wil je starten met Dropshipping?
Wil je Dropshipper worden? Mijn blog helpt je hiermee. Zo heb ik tientallen artikelen geschreven om jouw op weg te helpen met dropshipping. Helemaal gratis natuurlijk.
👇 Bekijk mijn dropshipping leercentrum
---